J.L. Kimmel will be presenting her original workshop – The Art of Storytelling & Illustration – for grades 5th to 8th at several schools in El Salvador this month:
The Escuela Americana, Academia Británica, Cuscatleca, Superate Raíces – San Salvador, Superate Hilasal – San Salvador, and Liceo Frances de San Salvador.
The workshops are based on her experience writing the award winning fiction adventure books: The Magic Gown and The Yawning Rabbit River Chronicle.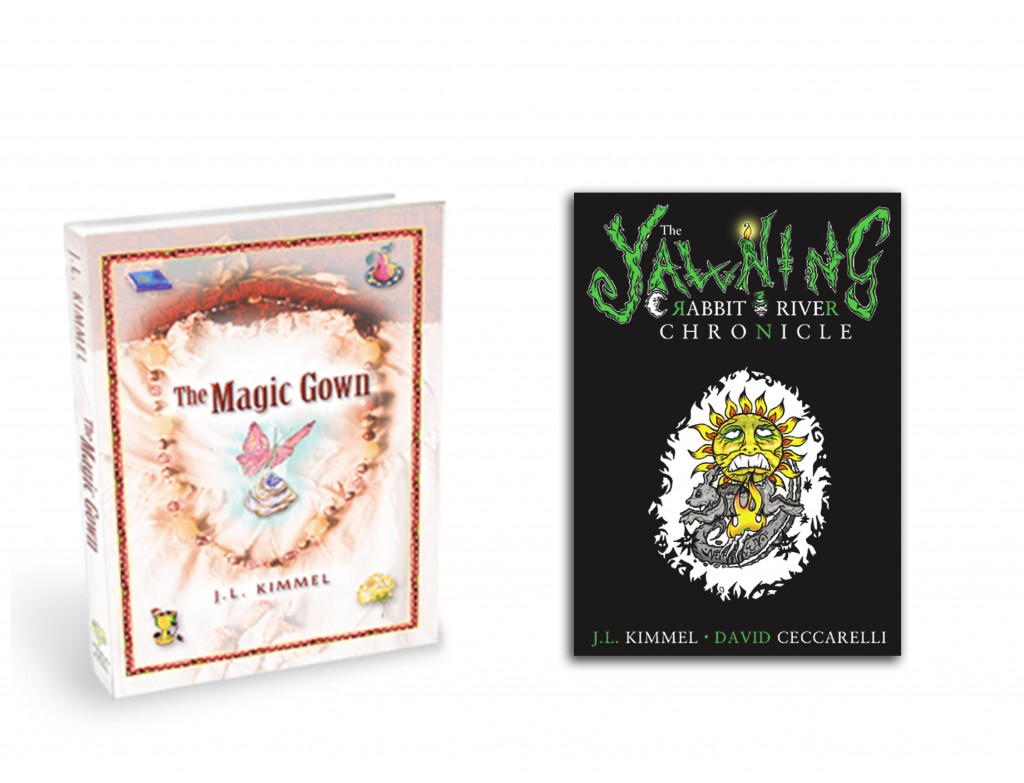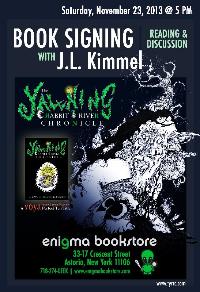 J.L. Kimmel will also be visiting Enigma Bookstore in Astoria – November 23, 2013 at 5 pm for a book signing, reading, and discussion.
Enigma is a science fiction, fantasy, and mystery focused store and an exciting forum for The Yawning Rabbit River Chronicle. 
A Note From J.L. Kimmel
The Art Of Storytelling & Illustration library tour has come to a close and, as I look back on the wonderful experience, I am reminded of the value of  'saying a hearty 'yes' to adventure in life'.  This advice has been a mainstay in my therapeutic practice as well as a theme for the recent Art of Storytelling tour.
One never knows how things will turn out – moment to moment.  And yet the willingness to say 'yes'; to give from the heart and be open has once again brought me the most wonderful gifts…
This fall those gifts included the lovely people of all ages I met at the Philadelphia, Baltimore, Charlottesville, and Richmond libraries and the Charlottesville Barnes & Noble. Thank you to you all!  I was honored to inspire you, as you inspired me.
A big thank you to Wendy Anne Edwards at 1070 WINA "WINA Morning News: Weekend Edition, Charlottesville VA for a great early morning radio interview.
Thank you Caryle Duffy for your beautiful support at the Philadelphia Library Event!
I am so grateful to Sara Sgarlat at Sgarlat Publicity and Leonard Baker for taking such good care of me.
And thank you to Danielle and Natalie at SierraRed for providing on-going graphic design and social media marketing support.
Saturday, November 23, 2013 5 pm book signing, reading, and discussion at Enigma Bookstore in Astoria, New York.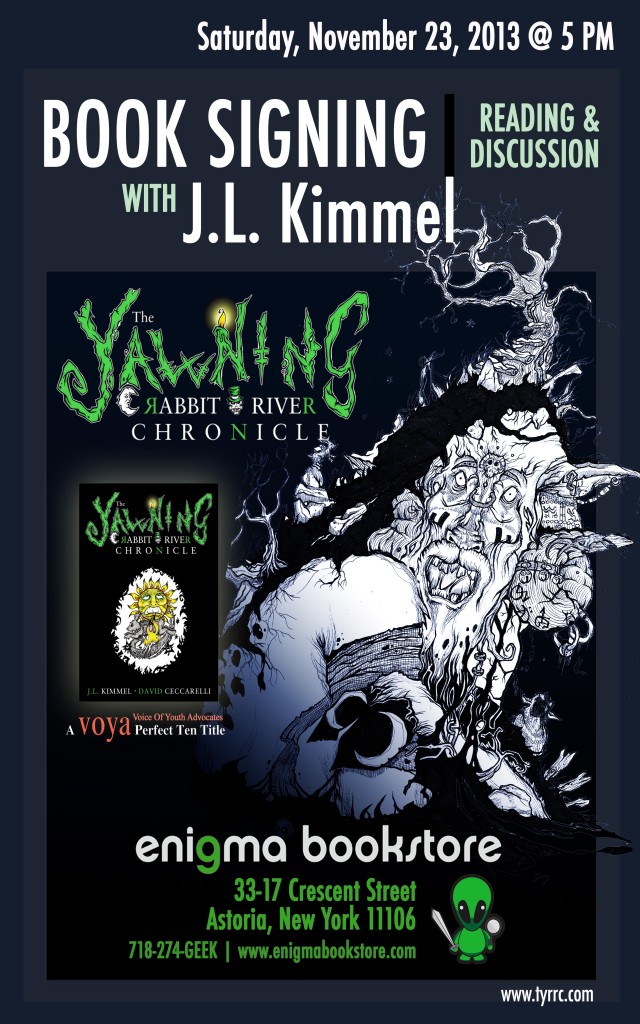 Educator Appreciation Workshop/Reception
Join us for a workshop on children and the art of storytelling, with teen and children's author Janine Kimmel. Janine, author of the award-winning The Yawning Rabbit River Chronicles, will lead the workshop, perfect for the Common Core Standards.
Thursday October 17, 2013 6:00 PM
The Commons at Holmdel, 2134 State Highway 35, Holmdel, NJ 07733, 732-275-0620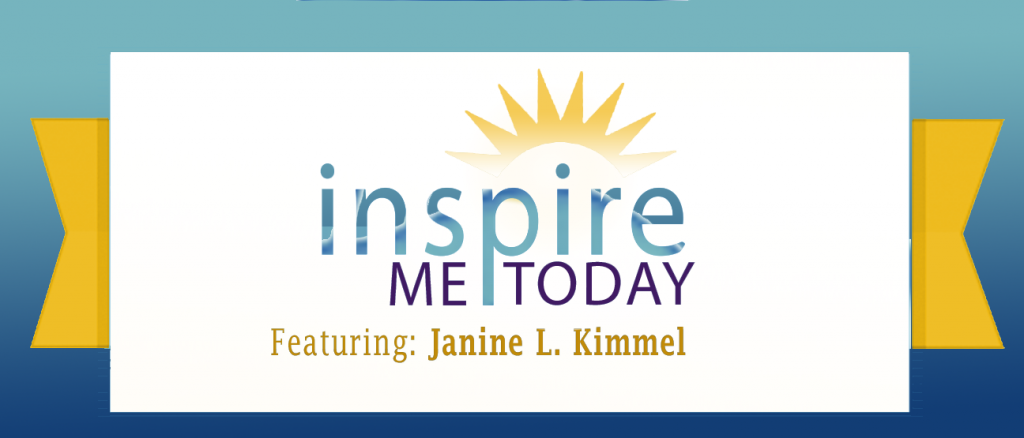 If I could share 500 words to inspire, this is the important wisdom I'd want to pass along to others…
Now I think I know the answer; it's simple really, you know? I think. . . well, I think we're all here just to be good to one another. Just that.
This is a passage from the end of my fiction book for young adult readers, which tells a complex story spanning over hundreds of years about an enchanted river, its heroes (both human and animal), and our intrinsic connection to Nature.
From my very earliest memories, I have had a love affair with Nature. I have stayed in touch with that love and know that there is a deep benefit that comes from an ongoing relationship with Nature.
I tap into this love every day in my work as a poet, an artist, a writer, a therapist, mother of two sons, and a teacher of creativity. I am such an advocate of the importance of encouraging our children to have a relationship with nature because I attribute much of my strength and creativity to that connection.
The best way to share this love with our children, beginning at the earliest of ages, is by modeling it OURSELVES. By connecting with the simplicity and authenticity of our natural surroundings, we instinctively slow to a more natural and saner rhythm or pace and begin to see the emergence of our own authentic, creative, and true nature – to be more open.
As this opening occurs, I like to say, our inner landscape becomes spectacular by transforming to reflect the beauty and wonder of the natural world. We also realize that, like our inner selves, nature is fragile and in need of care and love and respect.
And, like the great circle of life, one thing leads into another and back again. We are inspired and we inspire others to be good to each other. It is you and me, at our best. Like Robert W. Fuller, Ph.D. says, "Dignity is not negotiable."
We are connected by that goodness and it is our greatest strength;
A river runs from you to me
This river runs for eternity
A silent promise never broken
Of true love, so sweetly spoken
A heart that beats for you and me
One pure heart for eternity
A world like ours is never broken
With my song, like wings, now open!
-Janine L. Kimmel
Published on Inspire Me Today August 9, 2013
BITEradio.me is a Network of shows that focus on "Bringing Inspiration To Earth" – Our hosts focus on positive self-help and uplifting spiritual topics. On July 8th @ 12PM tune in here for J.L. Kimmel's interview as a part of BITEradio's Children's Corner.
The Yawning Rabbit River Chronicle by J. L. Kimmel & David Ceccarelli
The Yawning Rabbit River Chronicle has a book of the year award!
The Creative Child Awards Program at Creative Child Magazine has awarded TYRRC the  2013 BOOK OF THE YEAR AWARD in the Fiction Adventure Books category.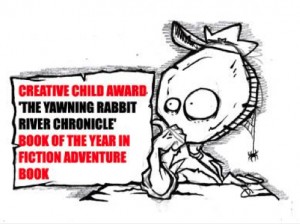 Visit The Yawning Rabbit River Chronicle's new website!
Spring Tree Press Blossoms
with books like flowers…………..
Sharing the Magic and Adventure in May,
J.L. Kimmel is delighted to say: 
"Happy Enchanted books are on their way"!
Children's hospital library recipients:
City of Hope, Los Angeles CA
New York Presbyterian Weill/Cornell Medical Center, New York City
St. Jude Children's Research Hospital, Memphis, TN 
Sloan-Kettering Cancer Center, New York City
Children's Hospital of Philadelphia, PA
Children's Library, San Salvador, El Salvador
Boston Children's Hospital, Boston, MA
The Yawning Rabbit River Chronicle and The Magic Gown were donated to help lift the spirits and inspire children, parents, and staff at these wonderful institutions.
The Yawning Rabbit River Chronicle is now a recipient of the 2013 Nautilus Silver Award for Young Adult Fiction!  Nautilus Book Awards Silver and Gold Winners are carefully selected in a unique three-tier judging process by experienced teams of book reviewers, librarians, authors, editors, book store owners, and leaders in the publishing industry.
____________________________________________________________________________
The Nautilus Story
Recognizing Books that Promote Spiritual Growth, 
Conscious Living, and Positive Social Change
as they stimulate the imagination and inspire the reader to
new possibilities for a better world.
Since ancient times, storytellers and scribes worldwide have gathered and shared the culture's words and ideas in ways that encourage its people to think, feel, and improve the lives of upcoming generations.  For centuries, the world's great philosophers and leaders have used books to inspire the masses and affect their attitudes  and emotions – not always for the better.
With mass global communication, political upheaval, depletion and destruction of our natural resources along with religious and secular fanaticism all growing at an alarming rate, the need for books that promote viable options for positive social change is vast, and the phrase,  "Changing the World One Book at a Time" is more meaningful than ever before. Authors and publishers and their books CAN and ARE making a difference.
We are so thankful for everyone who came out this past weekend for the Yawning Rabbit River Chronicle event! We had a great time reading and drawing with all of the participants. Hope to see you at another event soon!
Ric Bratton, host of This Week In America, interviews J.L. Kimmel about The Yawning Rabbit River Chronicle and the awards it has received. Listen here!
The Yawning Rabbit River Chronicle: Review
by Caitlin S.  age 13.
The book "Yawning Rabbit River" was very well written and I liked the suspense in it. I also liked how the author would show the same area through many years and started it from the very beginning onto hundreds of years later, in the same area, but the scenery and characters have changed greatly from the beginning. It was a really good book overall and I think a lot of kids of all ages would like it a lot. I personally passed my copy on to my friend and so far she's really enjoyed reading it. When I first started reading it, I couldn't put it down. I recommend the book to anyone who likes to read and I think it would encourage kids who don't like to read, to read more often.
THE RIVER GODDESS BLUES
From the book The Yawning Rabbit River Chronicle (2012) page 131
by J.L. Kimmel & David Ceccarelli
Oh, the River,
runs through all kinds of places,
through the broken hearts,
past the lonely sad faces.
Man, the river, she is made of tears,
of joy and pain
carried in the silver clouds
filled with soothing rain.
Listen to her roll
'round rocks and trees
Listen to her voice
sweeter than the breeze
tonight, tonight
Feel her gentle touch.
Tonight, tonight,
We need her so much
Awaken by her side
from your murky sleep
to the comfort
of her watery keep.
This river is like life,
it never ends
but on her heartbeat
the river depends.
Lyrics by J.L. Kimmel
Music composed by Zack Kimmel
Vocals, guitar, piano – Zack Kimmel
Drums – Teddy Powell
Tin whistle, alto saxophone – Rich Reiter
Zack Kimmel
https://www.facebook.com/zak.kimmel?fref=ts
http://fulltimerecords.us/
All song copyright reserved by J.L. Kimmel & Zack Kimmel 2013
Castlegregory National School Visit February 18, 2013
Several of the 7th and 8th graders at Castlegregory reviewed The Yawning Rabbit River Chronicle.  Thank you to Principal Muireann De Burca and all the students that shared their insight with us!
Aughascasla National School Visit February 19, 2013
Aoife O'Mahony reviewed TYRRC  and the entire 8th grade glass played "Fairytale of New York" on tin whistles!  Thank you Principal John Moriarty for having us!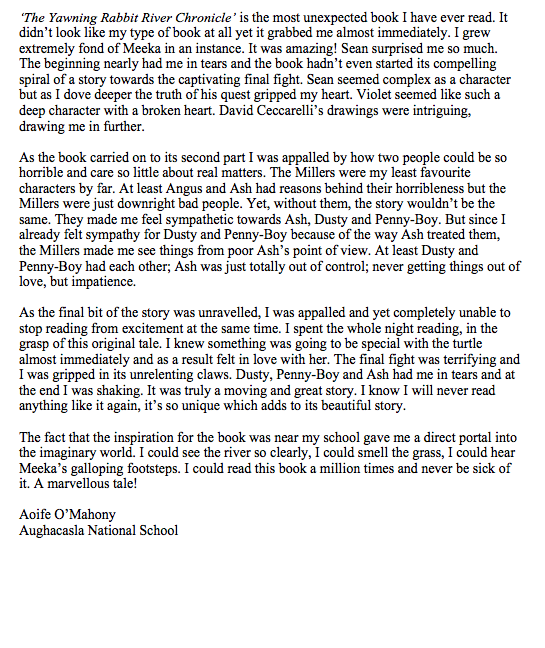 Scoil Bhreac Chuain Vist on February 20, 2013
Principal Mary Murphy sent us a lovely note after our visit to her school.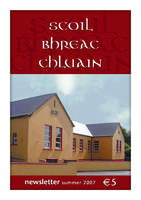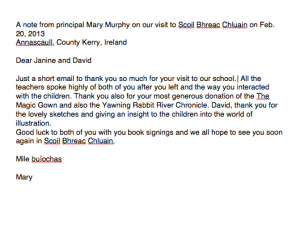 THANK YOU to Camilla and Mike at Dingle Bookshop in Dingle and to Justine and Keith at The Beach Box in Castlegregory for your wonderful support! Hope to see you soon!
Books available at Dingle Bookshop and The Beach Box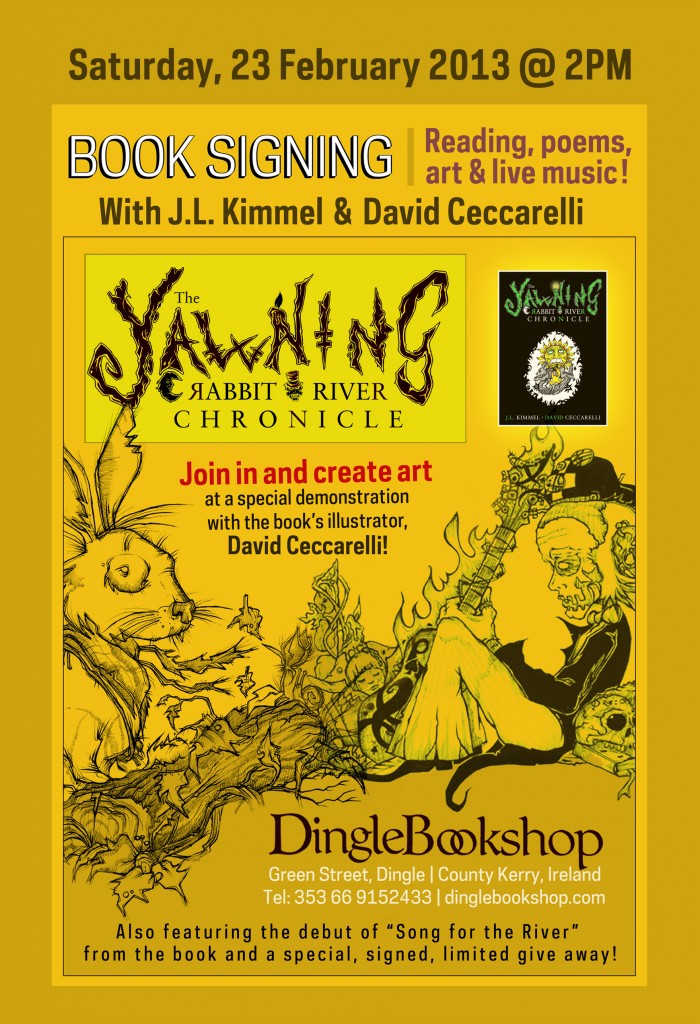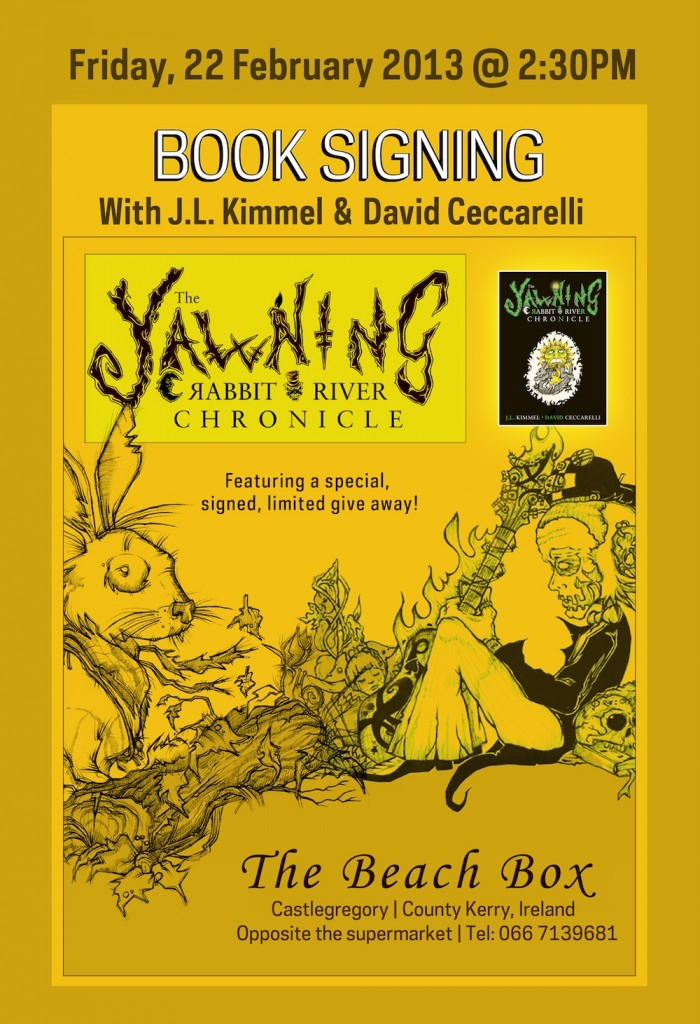 Check out the February 2013 newsletter for Spring Tree Press!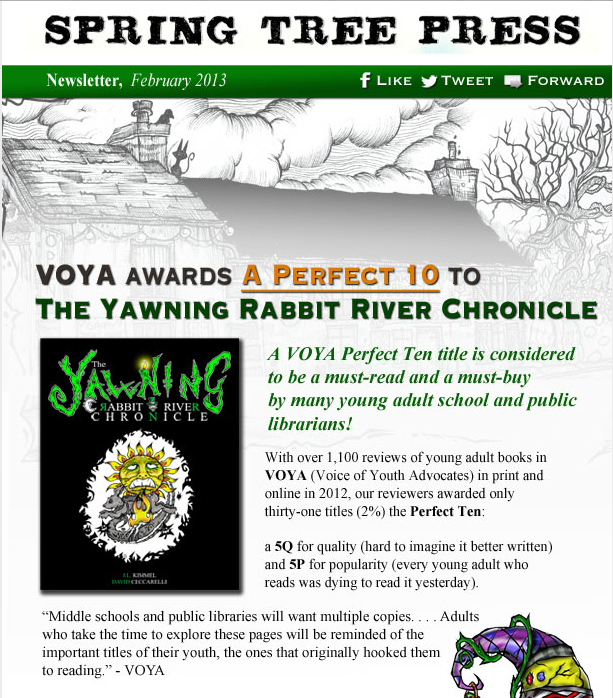 The Yawning Rabbit River Chronicle was awarded a spot on VOYA's Perfect Ten list for 2012!
With over 1,100 reviews of young adult books in VOYA (Voice of Youth Advocates) in print and online in 2012, our reviewers awarded only thirty-one titles the Perfect Ten: a 5Q for quality (hard to imagine it better written) and 5P for popularity (every young adult who reads was dying to read it yesterday). A VOYA Perfect Ten title is considered to be a must-read and a must-buy by many young adult school and public librarians!
Janine Kimmel and David Ceccarelli are very excited to be returning to Ireland next month to launch The Yawning Rabbit River Chronicle! February 15-24, 2013. More details to come soon!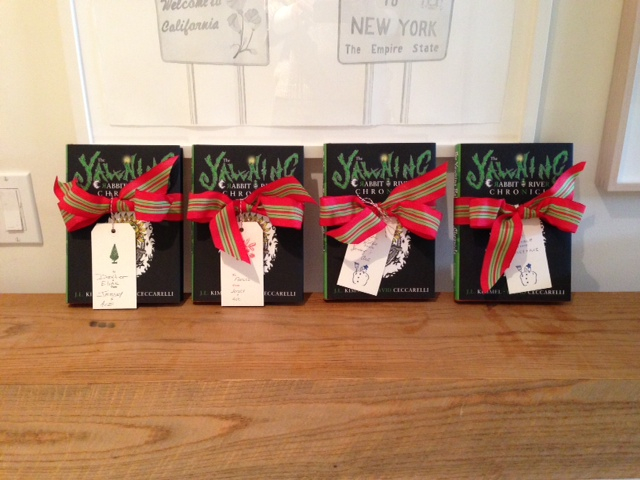 All ready to go out into the world and enchant!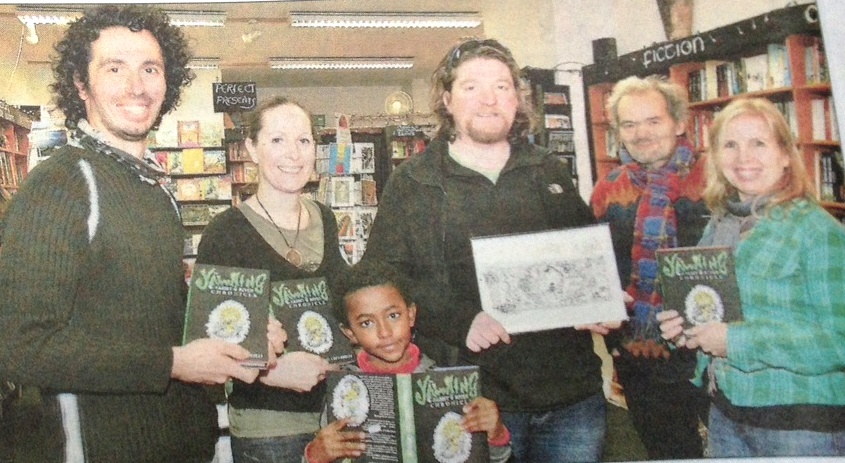 In a week that will see the global cinema release of J.R.R Tolkien's 'The Hobbit", it is appropriate that a new book, of a similar genre but inspired by the amazing beauty of the Castle-gregory, celebrated its official launch in Dingle.
'The Yawning Rabbit River Chronicles' is an epic tale penned by american writer J.L. Kimmel and beautifully illustrated by Italian artist David Ceccarelli. It follows the fate of a river and its heroes – a thieving rabbit, a deer who transforms at night, a magical boy and a rat with a heart of gold who battle against monsters and demons to bring safety to the river they love. Speaking to The Kerryman at the book's official irish launch in Dingle Bookshop last Saturday, author Janine Kimmel explained how Glenteenassig Valley inspired David and herself to bring the tale to life.
"Four years ago David and I paid the first of three visits to 'An Tigh Beag' in aughacashla," said Janine. "The area really inspired us to create this tale and many scenes in the book are drawn from the surroundings there.
The Owencashla River became the Yawning Rabbit River, Castlegregory became Briarwood and John O'Connor's cottage is the setting for Nub Begley's Farm," she said.
The book – which is geared towards readers over the age of ten – has been gained a lot of attention in the USA and in Italy since its initial release last September. Indeed David's illustrations, including a map – a West Kerry 'Middle Earth' of sorts – includes all kinds of local landmarks such as conor Pass and other such mystical locations such as Teru, Valley of the Giants and Laughing Wolf Pass.
"It's doing very well in the USA and in Italy," said Tuscany native David who hails from a small town near Florence. "Janine and I worked well together in bringing a good balance of darkness and light to the tale and people can reference the story to the area which really brings it to life."
The owners of An Tigh Beag in Aughacashla, John and Patricia O'Connor and their son Mint, joined David and Janine in the Dingle Bookshop to launch the book last Saturday.

On Saturday, December 8th
Janine Kimmel and David Ceccarelli were at the Dingle Bookshop in County Kerry, Ireland introducing and signing thier new book "The Yawning Rabbit River Chronicle".

These fantastic December events are being followed by:
– an interview in The Kerryman on Wednesday, December 12th
– and a reading on Friday, December 14th at The Dingle Library.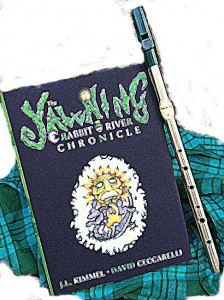 Both Janine and David are very excited about the great reception their book,
'The Yawning Rabbit River Chronicle' is receiving in County Kerry!
SATURDAY December 8, 2pm Book Signing
Green Street, Dingle, Co Kerry, Ireland
THE YAWNING RABBIT RIVER CHRONICLE
For three consecutive years the American writer Janine Kimmel and Italian artist David Ceccarelli came to stay at John O'Connor's house  An Tigh Beag at Castlegregory.  The majesty of the landscape surrounding them inspired this enchanting illustrated book.  Owencashla  became the Yawning Rabbit River, Castlegregory the fictional village of  Briarwood, and An Tigh Beag itself the setting for Nub Begley's Farm.

The heroes of this epic tale are a thieving rabbit with the courage to do great things, a deer who transforms as night falls, a magical coin-
headed boy, a dapper rat with a heart of gold and a brave boy and girl who know more than you might think.   All of them battle curses, demons, monsters, and other strange creatures to bring life and safety to the river they love.
A lovely present for anyone over the age of nine. Come and meet the author and illustrator and get your signed copy.
"Sean the rabbit thief, our little hero, is going to be in Glanteenassig and the Glen!"
December 8 – 15
SATURDAY 8 December 2pm Book Signing
The Dingle Bookshop
Green Street, Dingle, Co Kerry, Ireland
+353 66 9152433
Events/Talks, December 9th – 15th
9 Branches of  The County Kerry Library System and schools
-Dingle and Tralee will be included for Book signings-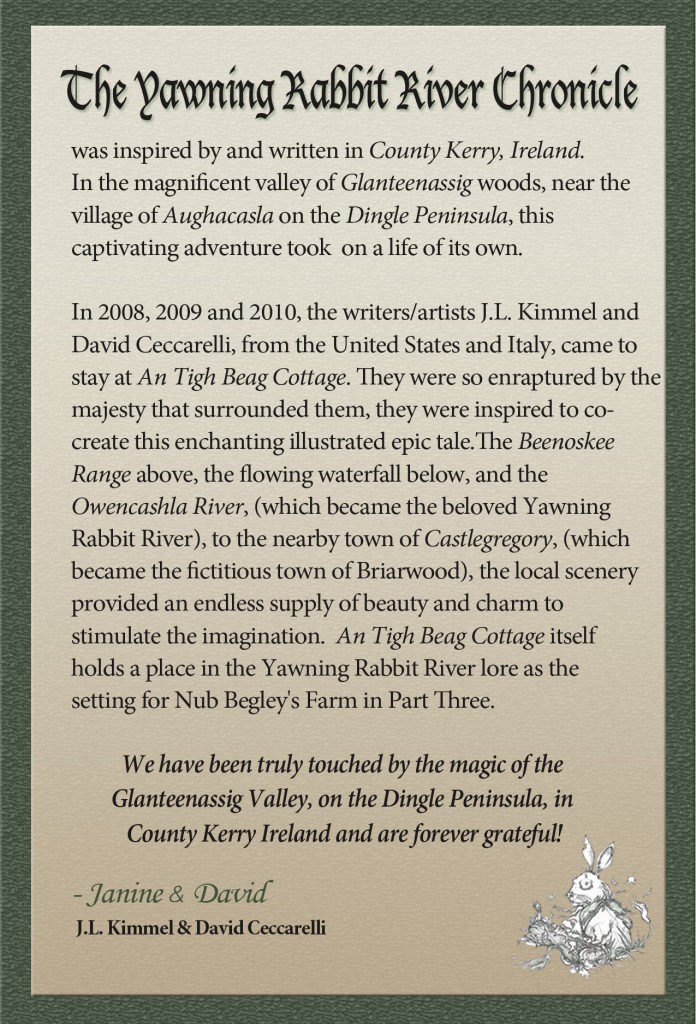 VOYA Magazine Review
December 2012 issue
by Cynthia Winfield
http://www.voya.com
5Q 5P M J
Kimmel, J. L., and David Ceccarelli. The Yawning Rabbit River Chronicle.
This magnificent, three-part tale opens in a once-idyllic forest where the creatures fear for their survival amid a drought so long-standing that none recall ever seeing a river and the dangers of hungry hunters. So desperate are they that a lightning-fast jackrabbit thief undertakes a quest to find the mythological river goddess, Violet, and race her for the river. As he departs, the forest librarian owl reads Violet's story aloud from a very special book. Part two occurs many years later on the estate of absurdly conspicuous consumers, Mr. and Mrs. Miller, the latter of whom hates rain and nature sounds. Their children are twins purchased at a bargain price—the loud, aggressive Ash, deemed "boyish" by parents who discount the sensitive, thoughtful Dusty. A mishap with the past makes Ash evil and infects the Miller house with "soul crawlers, parasites of hate that thrived where evil lurked." Twenty years later, in the adjoining township, part three brings thirteen-year-old Nub Begley, a farmer boy, and female classmate Nil Turner. Their adventures complete the complex tapestry of this rich tale.
In this heartwarming tale, good triumphs over evil, danger threatens every good soul, and history is contained within the pages of an important book that appears throughout. This story will make life-long readers of youth not previously committed to reading. Middle schools and public libraries will want multiple copies. Doting adults will do well to gift copies to beloved youth. Adults who take the time to explore these pages will be reminded of the important titles of their youth, the ones that originally hooked them on reading.
WHAT A GREAT DAY!
On Saturday November 10th at the 'Bankstreet Bookstore' in New York City,
J. L. Kimmel and David Ceccarelli did a Book Signing for their newest creation 
The Yawning Rabbit River Chronicle.   
il Tirreno / Prato
02 novembre 2012
(Il Tirreno is an Italian newspaper. Below is a translation of the article in English)
Prato, next week, will fly to New York with 
the Yawning River Rabbit.
______________________________________________________________________________________
http://iltirreno.gelocal.it/prato/cronaca/2012/11/02/news/vola-a-new-york-grazie-a-un-coniglio-che-sbadiglia-1.5963239  
At the Bank Street Book Store on Broadway and 112th Street, awaits an important event: the presentation of the children's book, co-written and in English with Janine Layton Kimmel.
"The yawning rabbit river chronicle" or "The Chronicles of the river rabbit yawning" is the title of the book that David Prato Ceccarelli and Janine Layton Kimmel American who lives in Locust, New Jersey (USA) will present the November 10.
The book, which has already been published and is already in major American bookstores by the end of September, with ample evidence of critical and sales both in the U.S. and in Ireland, will be officially presented for the first time by its authors at Bank Street Book Store, Broadway and 112th Street, and in December we will be presenting in Ireland where the story is set.
A debut over the top to the multifaceted Ceccarelli, 40, met on facebook nick with lupus famelicus (for an old nickname), with a degree in sociology, he did talk about him in the last years for extreme feats performed around the 'Europe grinding hundreds and hundreds of miles on foot or on scooters, alone or in pairs. But it is also an illustrator for a graphic design studio in New York (allanportera.com) is creating illustrations for skateboard companies abroad (Austria) as well as to volunteer in some associations, the network administrator and the dive guide . And sorry if I have defined versatile.
And 'his second book because in Italy has already published another children's opera: The irresistible anchovy.
With him in this adventure for four hands is JL Kimmel, 56, writer, illustrator, sculptor, teacher and therapist (which is why you have found good synergy in the work for four hands), which in turn have assets another book: The magic gown (The dress magic).
"I met her in London at the international exhibition of children's books – says David Ceccarelli, referring to Kimmel – So already collaborated for a U.S. publisher for whom I made the illustrations. I began to send them to her and her publisher liked them. Then we began the collaborations.  "A relationship that evolves slowly to become more solid in order to write the book for four hands.
"As Kimmel wanted to write the short story and I illustrated them for him – he says Ceccarelli – Then I began to write more short stories that she sent me to make drawings, drawing to my fictional characters developed especially in high school. The new plots are liked and so the short story became a story. I was his guest at Locust, she came to see me in Prato. Then the publisher has facilitated in finding a house / studio in Kerry Ireland where he set the book (although it is not formally expressed ) and, in the last three years, we have been three times to complete the fantastic story that will now have its official launch. "
But what is spoken of in the "Chronicles of the river rabbit yawning"?
"It's a fantastic story divided into three parts – says Ceccarelli – It starts with the epic of a rabbit named Sean, with a trick, challenge a goddess to make a run, and so can divert a river, until it into the woods and she was dying for lack of water and beset by troubling creatures at the edge of the clearing. The second part is set in the seventies, with fantastic creatures, strange and full of magic. The third part where he addresses the issue of racism and prejudices dividing people between those who have an umbrella to fend off rain judged to bring a disease and those who do not have it and that should be used to get sick. The story of course prove that the rain is not to create problems but 'Mangiacenere', the one who stole the memories of others … And the division between people with and people without an umbrella, it becomes ridiculous. "
Magical and fascinating stories that drag the guys in fantasy worlds but for now you can read in English only and buying the book on U.S. markets and Irish, or on the internet. But who knows, that by 2013, "The Chronicles of the river rabbit yawning" can be translated into Italian.
The story is by Ceccarelli and Kimmel, illustrations contained therein are of the Prato only now beginning to be more popular abroad than in Italy wanting to confirm the motto nemo propheta home east.